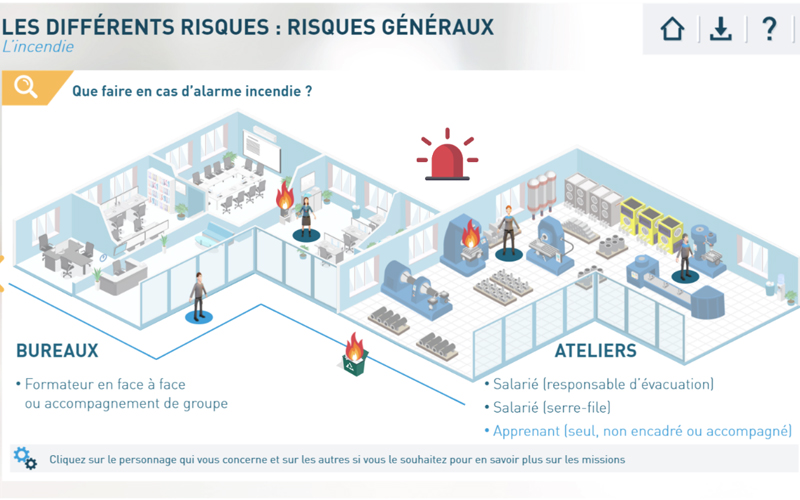 The Loire Region Training Centre – UIMM
"Companies today are faced with a two-sided transition: they must adapt to new digital and energy needs which will impact their production methods, economic models, workflow organisation, and the skills of their workers. Building on years of expertise and regional experience, the UIMM must be placed at the heart of this transformation, providing support and monitoring to companies."
Philippe Darmayan, President UIMM (Union des Industries et Métiers de la Métallurgie)
CONTEXT
The Loire Region Training Centre – UIMM is a reputed training establishment that works to drive competitiveness among companies, and develop skills among individuals.
With over 50 years of experience with local companies, the Training Centre's core objective is to offer a global training and consultancy service to meet industrial needs.
The Loire Region Training Centre – UIMM is working to create a digital training course focused on safety in the workplace dedicated to employees and trainees, to complement the existing on-site training.
STAKES
Meeting regulatory needs.
Prevention and awareness on workplace risk.
Respecting management commitments.
Ensure all new hires and trainees can access training at any time.
SOLUTION
The Loire Region Training Centre – UIMM has put their trust in Takoma to produce this Safety training, and develop fun, interactive, and varied content on the subject of professional risk in industrial professions.
The Safety training will last 90 minutes and will be divided into 6 e-learning modules to learn about the range of professional risks: fire, chemical, occupational diseases…
To achieve this, pedagogical methods were chosen based on pragmatism: motion design with 3D characters, interactive activities (case studies illustrated by images or videos), etc.
At the end of each module, trainees win "medals" and validate their Safety diploma by completing a final evaluation.
The Safety training course is available on the LMS platform for all employees and trainees of the Loire Region Training Centre – UIMM.