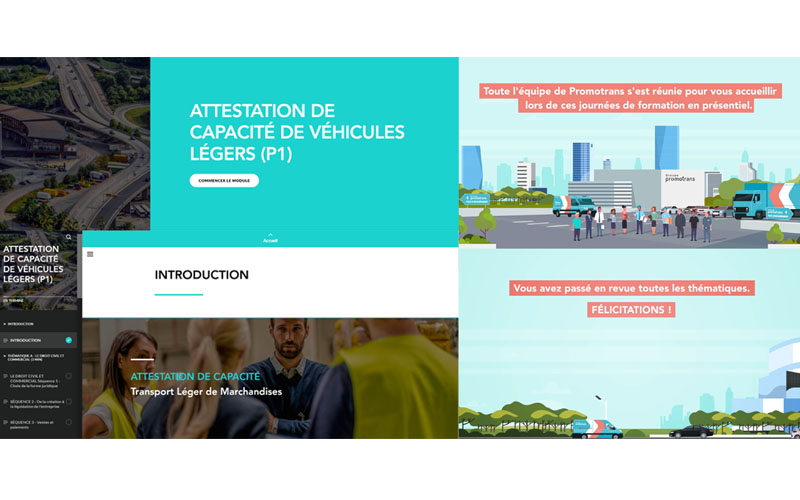 Promotrans – Redesign of the "light vehicle (-3.5 t) Certificate of professional competence" training course.
Promotrans specialises in initial and continuing training in the fields of transport, logistics – supply chain – and industrial vehicle maintenance.
CONTEXTE
Promotrans asked TAKOMA to redesign the pedagogic and graphic aspects of its light vehicle (-3.5 t) Certificate of professional competence training program. This 105-hour, 3-month course alternates between e-learning and on-site training and is structured around 6 themes. It is aimed at a heterogeneous audience (delivery drivers, entrepreneurs, people undergoing retraining, etc.) who would like to become the manager of a company which transports goods under 3.5 tonnes.
REPONSE
TAKOMA drew on its digital expertise to design, rework and produce the training materials upstream of the on-site training:
 Introduction of themes via e-learning modules: fact-checking principle, learner engagement, training program presentation.
6 x 5′ RISE format modules for each theme.

A graphic and pedagogical overhaul of the PDF course booklets, consistent with the identity of the Promotrans Group: synthesis and structuring of information, new Campus e-learning by Promotrans visual identity.Approximately 55 PDF booklets divided into 6 main themes.

Additional anchoring via infographics: retention of key elements, training enhancement, graphic consistency.
6 infographics in PDF format for each theme.

Training summary via Motion videos: summary of concepts covered, storytelling.
6 x 2′ Motion videos for each theme. 
Technologies
> LCMS – Rise & Storyline from Articulate 360